The lost laptop story has become tiresome. Some individual, proving themselves to be careless, or even just human, loses a laptop with some sort of confidential information. SB1386 has made this the most banal folk tale of the 2000s.

Fortunately, after perusing the results of the MotoGP tests in Jerez, I read the Roadracing World's version of the lost laptop story. Four cats from DC head out early to the Laguna Seca track on the Wednesday before the big MotoGP race. They find a carry-on piece of luggage, which contained a passport, tickets, MotoGP credentials and (yes) a laptop containing precious Ducati Corse data. So, instead of heading over to Repsol Honda, or eBay, these gentlemen returned the baggage to the Corse engineer it belonged. In return, the Ducati folks treat them like royalty throughout that weekend, and invite them to the season closer at Valencia. Hanging out with umbrella girls, scooter rides with Randy Mamola, asking Garry McCoy where it hurts, watching Nicky Hayden win the championship, all worthy activities paid in gratitude from Ducati.

Admittedly, Ducati C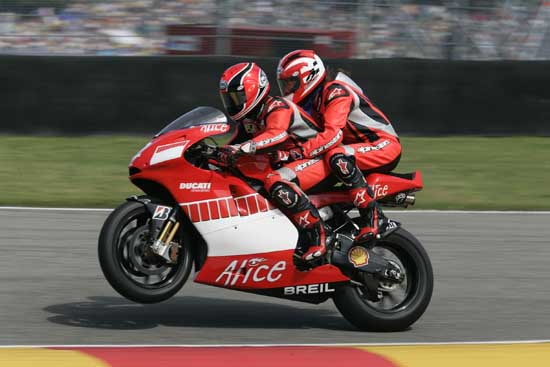 orse is cooler than the Department of Veterans Affairs or Wells Fargo will ever be. But if people knew that they could go on a scooter ride with Randy Mamola if they returned laptops loaded with trade secrets or personally identifiably information, our privacy problems here would soon be over.